About: Nitto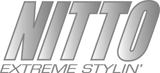 Nitto Tire builds and develops dozens of high-performance tires for all types of car and truck enthusiasts: street truck, off-road, rock crawling, mud, European car, luxury and SUV. Nitto Tire offers enthusiasts the best in high performance radial tires. Engineered to outperform all drag racing radial tires, provide impressive control, and consistency at any speed. Nitto Tires are fueled by enthusiasts. With one of the best and most informative websites around, Nitto really can get their message of racing heritage across. Nitto tire has created some of the most famous performance tires in the last 15 years. Some of these performance tires are the Nitto NT555, Nitto Invo, Nitto Neo Gen, and Nitto NT420. Not to be outdone by the Nitto Competition tires, the Nitto off-road tires are also a solid line-up. In particular the Nitto Grappler tire line with each tire specifically designed for a specific terrain. The Nitto Mud Grappler, Nitto Terra Grappler, Nitto Dura Grappler, and of course, the famous Nitto Dune Grappler with its instantly recognizable flame tread pattern. One of Nitto tires most recent tires is the Nitto Invo. The Nitto Invo is also very recognizable for its ingenious tread pattern and is sure to be one of the top tires for the next 5 years. With racing tire partnerships with racers like Kenny Tran and Ed Bergenholtz, its no wonder Nitto leads the way in racing research and development for tires.
Showing results 1 to 24 of 26
Showing results 1 to 24 of 26
---
---
---
Copyright 2008 - 2022 © RimsDealer.com, INC. All rights reserved. Development and SEO by HighTechWeb, INC.